Religious School Registration
Dear Religious School Parents,
We are excited to open registration for our 2022-2023 school year.
We will launch our year with a special outdoor program on Sunday, September 11th from 10am-11:30am. Everyone is welcome.
Our first day of classes is Sunday, September 18th. 9am-11:30am.
Want to learn more about our religious school program, watch the video below!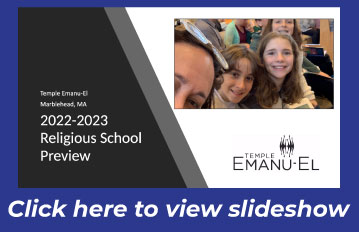 Our Hebrew Program for 3rd-6th grade will be begin on Wednesday, September 14th or Thursday, September 15th. Wednesdays sessions are from 4pm-5:30pm. There are two options for Thursday sessions: 3:30pm-5pm and 4:30pm-6pm (there will be t'filah from 4:30pm-5pm for both groups).
Pre-Confirmation for seventh and eighth grade will meet 12 times on Wednesday from 5:45pm-7pm. We will have three four-week sessions. October 12-November 2, January 4-25 and March 1-22. We will have final celebration on Wednesday, March 29th.
Seventh grade families will also meet on three selected Fridays during the year to attend Friday night worship and learn about the meaning of becoming B'nai Mitzvah.
Confirmation for ninth and tenth grade will meet 12 selected Sundays from 9am-10am.
Post-Confirmation for eleventh and twelfth graders will meet 8 selected Sundays from 10:30am-11:30am.
You will need to log into ShulCloud in order to register.
Sun, May 29 2022 28 Iyyar 5782